Last update: September 27, 2021 (12h10 PM)
Vaccination recommended but not mandatory, with exceptions
In a general manner, the Government of Quebec is encouraging the entire population to be vaccinated. However, in its decree of September 24, 2021, the government has excluded massage therapists as healthcare workers under vaccination obligation – except for those in work settings with the presence of vulnerable people. This confirms information broadcasted in the previous newsletter. Therefore, mandatory vaccination applies to massage therapists working in these work settings:
Family medicine groups (FMG)
Local community service centres (CLSC, in French)
Hospitals
Rehabilitation centres  (please refer to document p.4 for definition)
Retirement homes and long-term care facilities, public, private unfunded and funded
Specific funded private establishments other than long-term care facilities (CHSLD)
Private retirement homes
Certain community groups and stakeholders that offer services to vulnerable people
Social economy enterprises in home care
Please view the complete list of the concerned settings and healthcare providers issued by the Government of Quebec.
It is important to reiterate that the FQM bases its recommendations on government guidelines.
Existing prevention and control measures are maintained, however.
Reminder 
– Like their colleagues working in therapeutic care, massage therapists must continue to comply with all the infection prevention and control measures (wearing a quality mask at all times, practicing proper hand hygiene, cleaning and disinfection surfaces, triaging clients with symptoms, etc.), regardless of their vaccine status.
– Eye protection is optional for massage therapists, but they must wear a quality mask.
– Providing clients with a quality mask, rather than a face covering, is also recommended, owing to the proximity and duration of the massage. The client's mask can be removed under certain circumstances, for example when a client is lying on their stomach or when the massage therapist massages their face.
– Please note that massage therapists must change their quality mask every four hours (approximately) or sooner if the mask becomes moist, soiled or damaged.
Our recommendations are based on those of the INSPQ, which are available on the following Web pages: COVID-19: Interim Recommendations for Private Practice Therapeutic Care (in French), and COVID-19 : Recommandations générales pour les milieux de travail, hors milieux de soins, par palier d'alerte (in French).
---
Last update: February 16, 2021 (17h46 PM) 
On February 12, 2021, the Institut national de santé publique du Québec (INSPQ) updated its interim recommendations for care dispensed in a private office. The main changes applied to the practice of massage therapy are as follows:
Wearing a procedure mask is now recommended for massage therapy clients. Up to now, clients could choose to wear either a procedure mask or a face covering during massage therapy care. Effective February 12, 2021, the INSPQ recommends that all clients wear a good-quality procedure mask.
In order to meet the INSPQ quality requirements, procedure masks must meet the ASTM-F2100 standard. Masks that meet the EN 14683 (type IIR) standard can also be used.
In order to ensure the quality of procedure masks, the INSPQ recommends that massage therapists provide one to their clients a soon as they arrive for their massage therapy appointment.
Reminder
The INSPQ also recommends that massage therapists change their procedure mask every four hours (minimum) or more often if the mask becomes wet, soiled or damaged.
Please note that the obligation to wear a mask in closed public spaces (including massage therapy clinics) currently applies to all people aged 10 and over (recommended among kids aged 2 to 9). For further information concerning exclusions to this obligation, please go to the Québec.ca website. We have also updated the Guide de reprise des activités professionnelles des massothérapeutes agréé.e.s (Guide to the resumption of professional activities by certified massage therapists) in order to account for the updated recommendations of the INSPQ.
---
Curfew : Confirmation from the Ministry of Health and Social Services of Quebec
(January 19, 2021)
Many of you have contacted us in recent days to find out if the curfew in force between 8 p.m. and 5 a.m. applies to massage therapists in Quebec. In order to ensure that the information we share with you is accurate and valid, please read the confirmation email below, received from the offices of the Minister of Health and Social Services of Quebec on Monday, January 18, 2021. The email clearly states that massage therapy services are not targeted by the curfew and that they are subject to an exemption, as specified in the decree recently issued to that effect. This new confirmation is consistent with what we already mentioned in our press release dated January 8, 2021.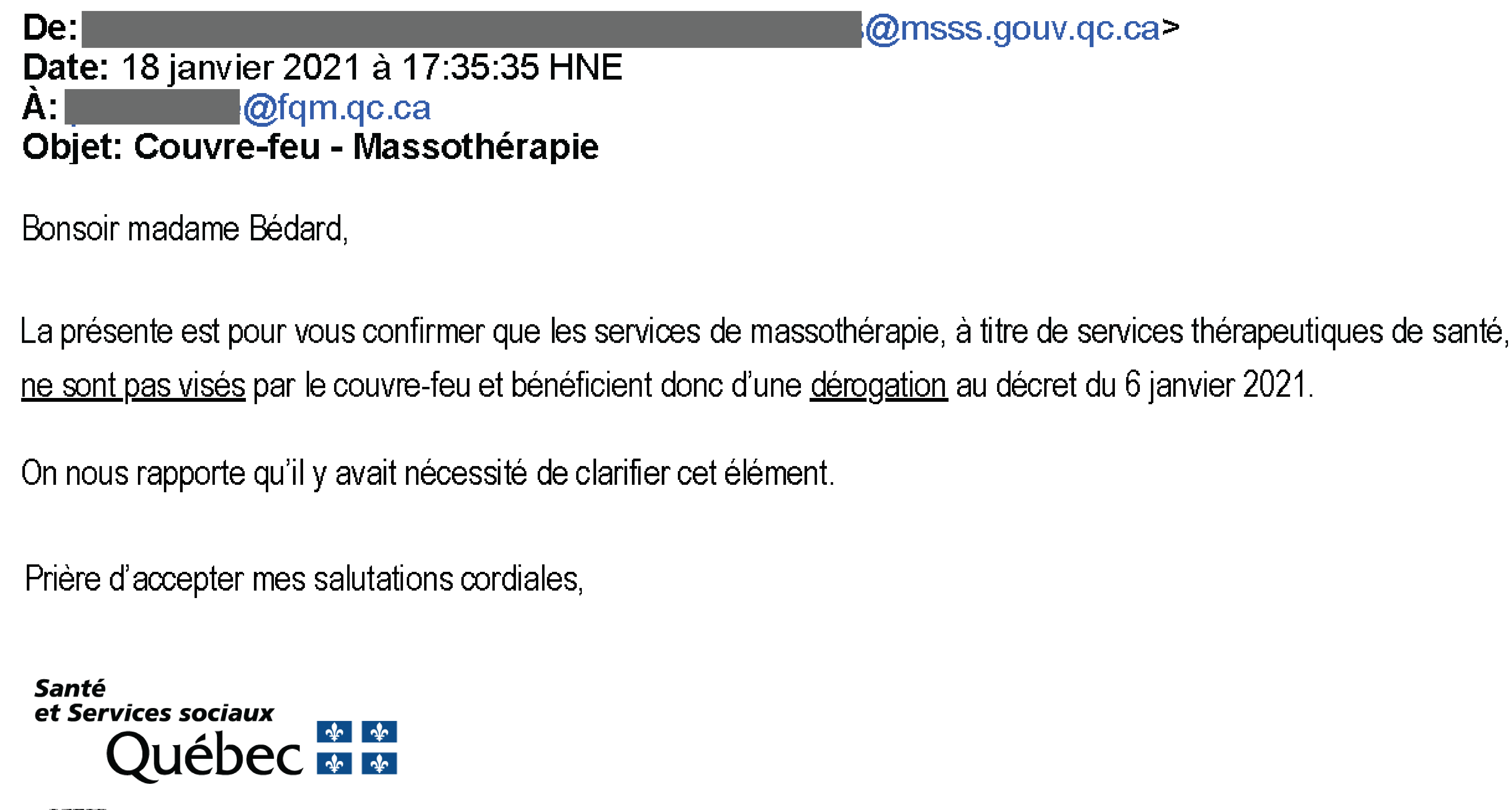 More details about the curfew and the tightening of public health measures
(January 8, 2021)
FQM members and massage therapists raised a number of questions in response to the announcement of stricter sanitary measures, effective until February 8, to curb the spread of COVID-19 in Quebec, including the curfew from 8 p.m. to 5 a.m. As mentioned in our press release issued on January 7, massage therapists are authorized to continue their professional activities.
 
Details concerning the curfew
As specified in an article published by Radio-Canada on January 7, 2021 and confirmed by a government decree, clients are authorized to go to, and return from, a massage therapist's workplace, even after the curfew. The same applies to massage therapists going to a client's home, a clinic or a spa for work purposes.
Proof of transportation after 8 p.m.
Massage therapists who work in a spa or a clinic after 8 p.m. may be required to present proof. The attestation – Déplacement durant le couvre-feu décrété par le gouvernement du Québec – can be completed by the employer (downloadable link – in French only).
For massage therapists going to a client's home or for massage therapy clients, a proof of appointment, receipt, or invoice may be acceptable.
Reminder concerning massage therapy delivered in spas
While spas are closed, they are authorized to offer massage therapy care. However, it's important to remember that the sale of products is prohibited while on the spa premises or in conjunction with the delivery of massage therapy services.
Update on containment and curfew from January 9 to February 8 inclusively
(January 7, 2021)
Massage therapists, including those who work in a spa, can continue their professional activities, in spite of stricter measures aimed at limiting the spread of COVID-19 across the province.
The Premier confirmed to the FQM that the decree authorizing the delivery of massage therapy services during the holiday period still applies.
The Government of Quebec also posted the following statement on its website: "These closures do not apply to professional healthcare workers (dentists, optometrists, physiotherapists, massage therapists, osteopaths, etc.), who can continue to carry out their activities. (Québec.ca)
Details concerning the curfew
The Government of Quebec issued the following statement: "Starting on Saturday, a curfew will be applied between 8 p.m. and 5 a.m. Between those hours, all residents are prohibited from leaving their homes, except in the event of exceptions that justify doing so, for example to receive health care, for humanitarian reasons, or to carry out priority work." (Québec.ca)
The governement will soon provide further details on the curfew. We will forward any information in connection with your practice as soon as it is made available.
Administrative staff authorized on the work premises
Employees whose physical presence is deemed necessary to maintain the organization's massage therapy activities are authorized to be on the work premises (e.g. assistant, receptionist or maintenance staff).
The FQM continuing its telework activities
Our offices will remain closed for the duration of the lockdown, but all our services will be maintained via telework.
COVID-19 Red Zones : The Impact on Massage Therapy
Government measures to break the second wave of COVID-19 were tightened in several regions, which will transition to the maximum alert level on Thursday, October 1, 2020. As of today, we can provide answers to the following questions from our members. Please check for updates, as these measures may be subject to change. 
 
Which regions and MRCs have become red zones?
You can check the status of your region by viewing the map of COVID-19 alert levels on the government of Québec website. We recommend that you carefully review the map on a regular basis. Please note that some regions have partially entered the red zone, depending on the MRC concerned. 
What impact will a change to the red zone have on massage therapy? 
Massage therapy services can be maintained in a red zone, in compliance with sanitary measures established by the INSPQ and the CNESST. 
Can I continue receiving clients at my home-based private office? 
Yes. The Sectoral workforce committee checked with the Ministère de la Santé et des Services sociaux, which confirmed that offering massage therapy care in private offices is permitted, provided that the applicable sanitary measures are observed. 
We wish to remind members that if you offer massage therapy care at home, most municipalities ask for an occupancy permit for your commercial activity. If a neighbour complains about visitors to your home, you can thus show them your permit in good standing. 
 
Can I massage a client at his or her home? 
Yes. "Individuals offering services or support" are accepted as visitors to homes (Québec.ca). 
 
Can I travel from a red zone to a different coloured zone for work (spa, clinic, client's home)? 
Yes. Workers can travel from one region to another (Québec.ca). The FQM recommends that members exercise the utmost caution and reminds them that, as a general rule, inter-regional travel is not advised. 
Are spas staying open? 
Massage therapy is maintained, but other leisure installations must close. The FQM is closely monitoring the situation and will inform you if the applicable measures change. 
Can massage therapists work in long-term care homes (CHSLDs), care settings and retirement homes?
The FQM is currently studying the question. In the meantime, we recommend that you check with the establishment in question to learn more about the measures that are in place. 
Can in-person massage therapy courses continue? 
Yes. Training institutions in red zones are not currently closed. However, qualifying training institutions are required to comply with the applicable CNESST measures. 
What should I do if I experience anxiety concerning the risk of infection?
Resources are available on the government of Québec website. You can also contact Info-Social service by dialing 8-1-1. 
 
Will the government offer financial assistance in the event that we are obliged to cease our activities due to a COVID-19 infection or a mandatory isolation prescribed by public health authorities?
A series of federal financial assistance programs are awaiting adoption by the Parliament of Canada. The CERB will be replaced by the Canada Recovery Benefit (CRB) for self-employed workers, whereas salaried employees will be redirected towards employment insurance with flexible conditions. A Canada Recovery Sickness Benefit (CRSB) is also planned for work stoppages due to COVID-19 (for further information). We will update you once these programs come into effect. 
 
The FQM team is continuing its efforts to facilitate your work, in spite of these difficult circumstances. We thank you for your continued trust. 
The FQM team and its board of directors
Important Resources 
The Professional Liability Waiver for printing or digital use is available in English here (member's only access). 
Our Procédure de reprise des activités has been translated in English. Please read our Guidelines for the Resumption of Massage Therapy in the Context of COVID-19 (IMPORTANT: there has been changes to the Public Health's recommendations. We are working on updating the guidelines. Please read our detailed announcements in French for additional information.) 
This document is based on the recommendations of Quebec's public health center and the toolkit produced by the CNESST.