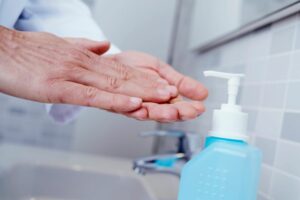 This four-part online training course is available to FQM members only. You can access it through the Member Portal. The training hours will be credited to your file. This training was designed by a microbiologist and is led by a clinical nurse specialist and certified trainer. By offering you this training, the FQM hopes to enable you to acquire knowledge about hygiene, asepsis and infection prevention that will help you adapt your practice to make it safe for both you and your clients, regardless of your workplace.
TRAINING CONTENT
The FQM training covers not only COVID-19, but also the other infections most often encountered in massage therapy (e.g., flu, colds, gastroenteritis and skin infections). The recovery procedure is explained as well as all the necessary protective equipment. We encourage all our members to take this training.
A training certificate is sent to you by email after the training.