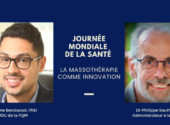 World Health Day: massage therapy as an innovation
April 7 marked World Health Day.  Founded 75 years ago, WHO (World Health Organization) calls for innovations to overcome today's challenges. Created in 1979, our …
Learn more
Thank you for your trust: membership renewal
Dear member, I hope that the year 2023 has started well for you! I sincerely wish that you have a challenging year that will live …
Learn more
2022 Benefit Dinner: The Massage Therapy Foundation raises $61,508
Last week in Montreal, the 12th edition of the Fondation de la massothérapie's benefit dinner was held in a sumptuous reception room at the …
Learn more
MODIFICATION OF THE CODE OF DEONTOLOGY
The FQM is concerned with encouraging a climate of trust regarding the practices of the massage therapist profession. According to the syndic Me David …
Learn more
THE FÉDÉRATION QUÉBÉCOISE DES MASSOTHÉRAPEUTES
The Fédération québécoise des massothérapeutes (FQM) is structured like a professional order. It includes 4500 members who practice massage therapy and physical therapy. Accrediting the training of 14 (a verifier) partnered schools, the FQM ensures rigorous training to those who want to become massage therapists. Once they graduate, the FQM supports them in their career by offering various free online tools:
THE MAIN AUTHORITY IN MASSAGE THERAPY
In order to protect the public, the FQM has developed the first code of deontology and works with a trustee (lawyer), a professional inspection committee, and a disciplinary committee. This explains why the FQM has established itself as the main authority in the massage therapy field in Quebec.
The FQM's vision is focused on the professionalization of massage therapy in Quebec. This is what motivates us to advocate for stronger regulation and better management. In 1988, we were presenting our first submission for the creation of a professional order in massage therapy. To this day, the FQM is working with many partners, including insurance companies, and is in constant contact with ministries and other governmental bodies.
SOCIAL MISSION
In the context of our social mission, the FQM created the Fondation de la massothérapie in 2010. Since, our foundation has offered over 35000 massage therapy sessions . It especially targets people suffering from cancer, dealing with chronic pain, mental health issues, the elderly, and caregivers. It is also an excellent way of helping massage therapy thrive in health establishments (hospitals, CHSLD, etc.) as well as procuring wellness to those who really need it.
OUR ENGAGEMENT TOWARDS QUALITY
The FQM is the only massage therapist association in Quebec that has obtained the ISO 9001 certification: 2015, delivered by the Bureau de normalisation du Québec (BNQ), member of the Système national de normes (SNN). Discover the quality engagement of the Fédération québécoise des massothérapeutes.