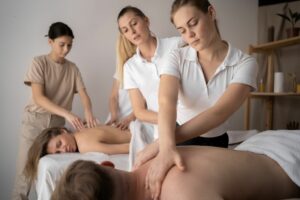 Massage therapy training (referred to in the Modèle québécois de la massothérapie®*) includes three competency profiles and enables the Massothérapeute agréé®* to perform a preventive or therapeutic massage that is safe, effective and adapted to various health conditions.
These three profiles are broken down into training programs (from 400 hours to 1,800 hours) offered in the network of schools accredited by the FQM and the Institut de formation de la FQM. Their accreditation guarantees that the teaching and training comply with the highest quality standards (ISO 9001: 2015), comparable to those in force in other provinces where massage therapy is regulated.
QUESTIONS ABOUT THIS…
If you have any questions about massage therapy education, please do not hesitate to contact our member services, at 1-800-363-9609, ext. 228, or by e-mail at support@fqm.qc.ca
* The designations Modèle québécois de la massothérapie and massothérapeute agréé are both registered trademarks of the FQM.