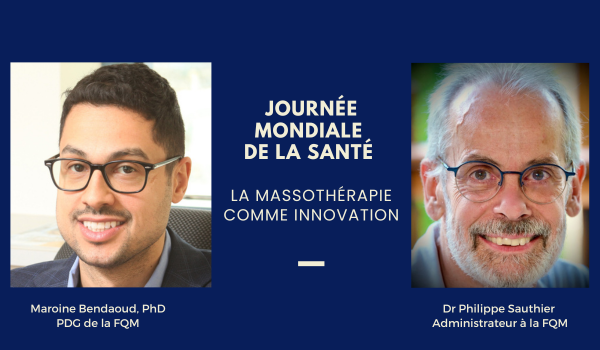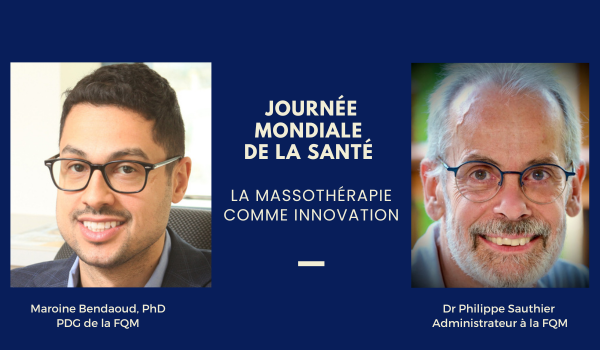 News
April 7 marked World Health Day.  Founded 75 years ago, WHO (World Health Organization) calls for innovations to overcome today's challenges.
Created in 1979, our Fédération québécoise des massothérapeutes works to have the profession recognized. Today, there are 15,000 to 20,000 massage therapists practising in Quebec. Yet discipline remains in the shadows.
PRESENT… WITHOUT BEING "OFFICIAL"
Registered massage therapists work in private practice, and in multidisciplinary clinics. Many are also in the spa or tourism industry.Some have propelled their corporate chair massage services from here to Vancouver.  Different employers pay for massage therapy sessions for their employees in the workplace.  A way to show that they care about their health and indirectly about their performance.
We are also doing our part to address health inequalities. Through our Massage Therapy Foundation, we offer care to vulnerable women, at the Maison Blue in Parc-Extension in Montreal.
Our partnerships with the Fondation québécoise du cancer, Arthritis Society Canada, and Association québécoise de la douleur chronique, have provided thousands of massage therapy sessions.
Beyond well-known hospitals such as CHUM and CHUL, massage therapists are present in about fifty CHSLDs, involving a dozen CI(U)SSS.
Except that funding goes through foundations (e.g. Virage or hospital foundations) and massage therapy is considered a "treat". A much appreciated treat, because patients ask for more. Doctors and nurses witness it: everyone sees the benefits on the physical, mental, emotional state.
Massage therapists should "officially" be part of the list of stakeholders alongside physiotherapists, psychologists, nutritionists, etc., in multidisciplinary teams.
Recreation therapists are formally integrated into these teams year-round. They're on the payroll… but not massage therapists.
THE ADDED VALUE OF MASSAGE THERAPY
Personalized care is an undeniable advantage. Here, no one size fits all where the same drug would be prescribed for back pain or neck pain. Massage therapy allows a deep contact, adapted to the lived reality.
Going to clients' home and working with people with reduced mobility opens doors for many clienteles, including social geriatrics. The approach is human and comforting.
Preventive: massage therapy reduces stress and muscle tension. It relaxes and promotes well-being. All agree that prevention reduces the risk of physical and mental health problems.
Palliative: massage therapy relieves suffering and reduces feelings of pain and discomfort. It allows a better recovery.
Even within the medical community, no one has ever really believed that pills can 'do it all.'
But let's be cautious here, the idea is not to put approaches in competition.
That said, if massage therapy well supervised and integrated into care services allows complementarity treatment against analgesics, anti-inflammatories, painkillers, antidepressants or drugs against insomnia, why not using it?
Scientific evidence already demonstrates the benefits of massage therapy. But if a stronger implementation were to take place, it would have to be accompanied by a research component to ensure rigorous follow-up.
TWO CONCRETE PROPOSALS FOR DECISION-MAKERS
Formalize the presence of massage therapy in patient care, for example in oncology, post-surgery, support for pregnant women, specific mental health pathologies (burnout, depression, anxiety).
Offer massages in the workplace of caregivers, for example nurses, to optimize their health, improve their work and performance, reduce chronic fatigue, exhaustion or absenteeism.
It is the mix of approaches that contributes to the improvement of health conditions.
Today's innovations must consider people as a whole.
There is every reason to believe that World Health Organization thinks so too.